Who Else Doesn't Want Back Surgery?
DON'T SPEND ANOTHER MINUTE WITH BACK PAIN!
Presented By Dr. Marc Davis, DC
New Solution For Back Pain Sufferers…It's FDA Approved, Has An 86% Success Rate, No Documented Side Effects, And Best Of All…It's Non-Surgical And Painless!!!
Are You Suffering From Chronic Back Pain?
If you are like many who suffer from chronic back pain, you have probably tried several prescribed remedies to help ease your discomfort. Frequent bed rest. High doses of pain medication. Perhaps even non-traditional approaches such as acupuncture. And like so many, you have come to accept the fact that you just have to learn to live with your pain.
Today, you don't have to live with that pain anymore. Thanks to the concerted efforts of a team of top physicians and medical engineers, a major advancement in medical technology was made to effectively treat low back pain resulting from herniated or deteriorating discs. The result of their efforts – the creation of the DRX9000™ not only significantly reduces back pain in 86% of patients, but enables the majority of patients to return to living more active lifestyles.
Common Causes of Back Pain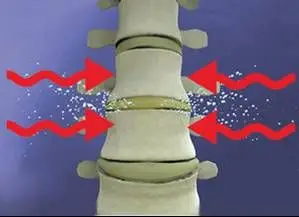 Your central nervous system consists of the brain and spinal cord. Protecting the spinal cord are vertebrae (bones), protected in turn by discs made up of a gelatin-like substance. Functioning as a shock absorber to the bones, discs undergo tremendous amounts of stress, often resulting in a herniation or "bulging" of the disc. This is the most common cause of lower back pain.
Another common cause of back pain is disc degeneration, caused by a drying out of the disc area. Over the course of time, or through injury, dried discs will crack and induce pressure on nerves. The result is extreme muscle tension and back pain.
The DRX9000™ was created to effectively treat these conditions to help patients live a pain-free life.
An 86% Success Rate
Recent medical breakthroughs have led to the development of advanced technologies to reproduce the effects of anti-gravity space travel here on earth!
Through the combination of proven scientific principles, the latest technological developments, and the brilliant work of a specialized team of physicians and medical engineers—Axiom Worldwide, a medical manufacturing company, now offers this space age technology to the general public via licensed and trained doctors, with its incredible DRX 9000™ spinal decompression equipment.
The DRX 9000™ is FDA approved and has been clinically proven with preliminary studies showing an 86% success rate with the pain and symptoms associated with herniated and/or bulging discs…even after failed surgery.
The DRX9000™ uses state-of-the-art technology to gradually relieve neurocompression often associated with lower back pain. The process has been proven to relieve pain by enlarging disc space, reducing herniation, strengthening outer ligaments to help move herniated areas back into place, and reversing high intradiscal pressures through application of negative pressure.
Pre- and post-treatment MRIs have shown greater than 50% reduction in the size and extent of herniations after four weeks of treatments with the DRX9000™. In fact, during the initial clinical study, more than 86% of patients reported relief of back pain with the DRX9000™.
Is the DRX9000™ for You?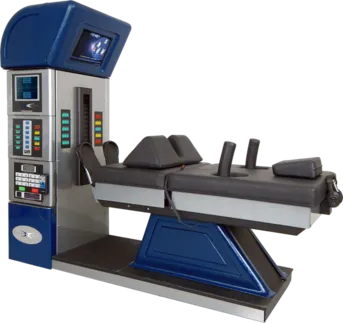 The DRX9000™ can help if you have:
Back Pain
Herniated and/or bulging lumbar discs with or without complications
Degenerative disc disease
A relapse or failure following surgery, even with multiple levels of herniation
Facet syndromes
Sciatica
A Very Important Note:
The DRX 9000™ has been successful with even the most severe cases…even when NOTHING else has worked. Even after failed back surgery.
What are Treatments Like?
After being fitted with an automatic shoulder support system, the DRX 9000™ slowly lowers you to a horizontal position. You are lying face up. The automatic shoulder support system helps to stabilize your upper body.
The advanced computer system automatically adjusts to the proper angle of distraction; an air bladder system acts as a fulcrum to the angle of pull, allowing us to target specific discs…that are causing your pain and symptoms.
The distractive forces utilize a logarithmic curve to avoid proprioceptor response, which would create muscle spasm. The split table design decreases friction and allows separation of the vertebrae, minimizing the effect of gravity.
Painless Treatment
Patients describe the treatment as a gentle, painless, intermittent pulling of your back. Many patients actually fall asleep during treatment.
How Long Are Treatments And How Many Treatments Do You Need?
Patients typically undergo 18 to 24 treatment sessions. Each treatment lasts between 30-45 minutes. This, of course, depends on your individual case, and is determined by a thorough evaluation.
Following each session, a cold pack and low level light therapy are applied to help pain relief and speed the healing process.
It is important to note that many patients get substantial, immediate relief after a few treatments. Some after just one.
The Really Good News Is…this is not something you have to continue for the rest of your life! So it is not a big commitment.
How Do I Find Out if I'm a Candidate?
Call our office directly at 360-823-2225 to schedule an "obligation free" complimentary consultation.
Copyright 2014. Axiom Worldwide and Dr. Marc
Davis, DC.
Dr. Marc Davis adjusts patients at Davis Family Chiropractic and Massage, a thriving wellness-oriented office located next to Fred Meyer in Fisher's Landing. For FREE monthly tips and community events subscribe to Dr. Davis' blog "Life Naturally" by going to www.davisfamilychiro.com and clicking on "Blog". To schedule a time to meet with Dr. Davis, or to get information about having him speak at your club, church group or workplace, call (360) 823-2225.
Dr. Marc Davis
DAVIS FAMILY CHIROPRACTIC AND MASSAGE, PLLC
"For a Lifetime of Standing Tall!"
2415 SE 165TH Avenue, Suite 103
Vancouver, WA 98683